14th - 19th of July 2009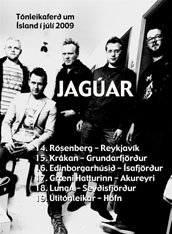 On tour in Icleand - July 2009.

14.07.09: Rósenberg - Reykjavík / 21:00
15.07.09: Krákan - Grundarfjörður / 21:00
16.07.09: Edinborgarhúsið - Ísafjörður / 21:00
17.07.09: Græni hatturinn - Akureyri / 21:00
18.07.09: Lunga - Seyðisfjörður / www.lunga.is
19.07.09: Höfn - Útitónleikar



JAGUAR on Facebook
JAGUAR on MySpace
Feel free to contact us at jaguar@jaguar.is
7th of AUGUST 2009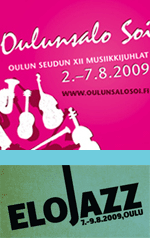 We'll be playing at the Elojazz / Oulunsalo Soi festival in Oulu, Finland on the 7th of August 2009.

07.08.09: Elojazz / Oulunsalo Soi festival club - Radisson Sas, Oulu at 10pm (Address: Hallituskatu 1, Oulu)

- Oulunsalo Soi website

- Elo Jazz website



JAGUAR on Facebook
JAGUAR on MySpace
Feel free to contact us at jaguar@jaguar.is
JAZZKAAR TALLINN, KAUNAS JAZZ and APRIL JAZZ, ESPOO FINLAND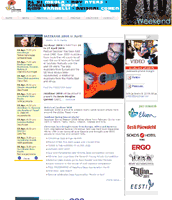 We'll be playing at three jazz festivals in April 2008. Festival JAZZKAAR in Tallinn, Estonia. KAUNAS JAZZ in Kaunas Lithuania and APRIL JAZZ in Espoo Finland.

We'll play at ORGAN in Reykjavik the 18th of April. Concert starts at 00:30.

24.04.2008 JAZZKAAR TALLINN / Pirita Lillepaviljonis at 21.00
- JAZZKAAR website

25.04.2008 KAUNAS JAZZ / club "Combo" at 23:00
- KAUNAS JAZZ website

26.04.2008 APRIL JAZZ / President Club at 22:00
- APRIL JAZZ website


Feel free to contact us at jaguar@jaguar.is for more information.

Visit us on MySpace, http://myspace.com/jaguariceland
LIDO AND GAUKUR A STONG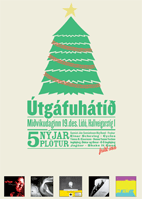 On the 19th of December, Jaguar and other artists will be playing at Lido, Hallveigarstig 1 in Reykjavik to introduce their new albums. The concert starts at 20:00. Free admission.

The artists that will perform and their albums are:

Samuel Jon Samuelsson Big Band - Fnykur
Einar Scheving - Cycles
Tomas R. Einarsson - Romm Tomm Techno
Omar, Oskar and Ingibjorg - O, O, Ingibjorg
Jaguar - Shake It Good

On the 22nd of December, Jaguar plays at Gaukur a Stong in Reykjavik. The concert starts at midnight.



Feel free to contact us at jaguar@jaguar.is for more information.

Visit us on MySpace, http://myspace.com/jaguariceland
NASA Reykjavik, Ras 2 Live Broadcasting and Graeni Hatturinn Akureyri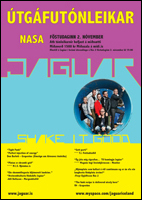 We'll be playing in Reykjavik, Akureyri and on a live radio show to introduce our new album, "SHAKE IT GOOD". The album and the band have recently been getting good reviews in local news papers:

"Tight Funk"
"Perfect injection of energy"
Don Barlett – Grapevine (Airwaves concert review)

"Good party"
*** T.J. Frettabladid

"The funk recipe is delivered nicely here"
VÞ - Grapevine

Here is a list of our upcoming shows:
02.11.2007 Live on Ras 2 at 15:00 GMT - Listen here
02.11.2007 NASA. Doors open at 23:00 - Buy tickets here
10.11.2007 Graeni Hatturinn, Akureyri

Feel free to contact us at jaguar@jaguar.is for more information.

Visit us on MySpace, http://myspace.com/jaguariceland
NEW ALBUM OUT - "SHAKE IT GOOD"
Available at record stores in Iceland
Our new record is out. It's titled "Shake It Good" and is avalible in record stores in Iceland. "Shake It Good" is our fourth studio album, recorded in Denmark and Iceland. Official publish date is 18.08.2007, this date is also the bands 9th anniversary.
Feel free to contact us at jaguar@jaguar.is for more information.

Visit us on MySpace, http://myspace.com/jaguariceland

We have released a new single from our forthcoming album. The album "Shake It Good" is available in record stores in Iceland.
Just back from Denmark were we recorded new tracks for our upcoming album. Were now doing overdubs, vocals and preparing for the mix.
Studio Lungaard is a residential studio and is located in the country side of Jylland, Denmark. We were there for one week, eating danish smörrebröd and drinking beer inbetween recording sessions. We're really excited about this record and plan to release it in June.

Yes you heard right. We're going to Denmark (secret location) in February to record our 4th studio album. We've written a lot of new tunes and we're very excited about this. The record is scheduled for release in June this year.